Smoked Haddock
Posted by David Horne.
Aug 04, 2017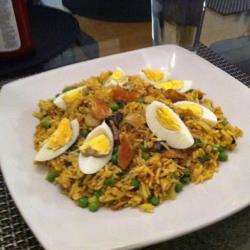 So what can you do with Smoked Haddock? Slimming World Syn free Kedgeree of course! Let's put that saying "if it swims it slims" to the test!
Servings Prep Time
3people 10minutes
Cook Time 30 minutes
Ingredients
250g Smoked Haddock
200g Basmati Rice
1 OnionChopped
1 Chicken/Veg/Fish Stock cube
100g Peas
3 Boiled Eggs
400ml WaterYou could use milk but don't forget to syn it!
1 Bay Leaf
2tsp Curry Powder
1wedge Lemons
Some Chopped chivesfor garnish
Method
In a pan poach the smoked haddock in 400ml of water with a bay leaf (you could use milk if you like, but don't forget to syn it accordingly!)
Mist a large frying pan with Frylight and sweat an onion until it begins to colour
Add the curry powder and the rice to the frying pan to slick the rice
Place the haddock on a plate and flake. Set aside.
Add the residual poaching liquor to the frying pan together with a stock cube. Cook it on a high heat for 5 minutes, then turn off, cover & leave for 10 minutes
Stir through the peas and cover for another minute, then add the flaked haddock
Place the boiled eggs & chopped chives on top. Finish with a squeeze of lemon juice.
---
---