Update on the journey
Posted by David Horne.
Apr 20, 2017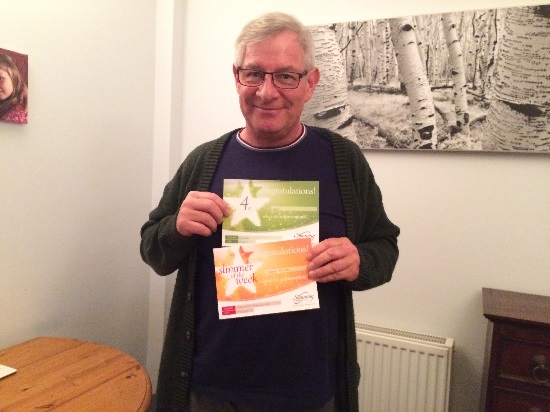 It was just 7 months ago, September 14th, 2016.
Pat and I walked into our local Slimming World Group.
We were desperate.
I had just had what was thought to be another TIA (mini stroke) this now being the third!
How many warnings do you need?
I had to do something. My Consultant told me that I might not be so lucky next time. He said I had to lose a CONSIDERABLE amount of weight.
I had my driving licence revoked; life had changed for us yet again.
I have to say at this point, that Pat is an absolute star. She has always supported and encouraged me. She said that she would join with me, so I didn't have to face the mountain on my own.
We had tried so often in the past to lose the weight, with all kinds of fad diets. We had tried the dreaded soup diet, which after a month used to make us retch just opening the lid.
I tried Atkins, slim fast, herbal life, Salustra, missing meals just eating salad. etc etc etc and yes they all worked. Yes I lost weight, some times as much as 2 stone.
But BANG! The minute I stopped it was back on.
We walked into the Slimming World Group hoping beyond our wildest dreams that this would do it. We met Emma Kellond. My god, we love you Emma. You have quite literally saved my life.
Pat and I will be forever grateful to you.
You sat us down and asked what it was we would like to achieve.
Well that was a surprise, we hadn't really given it any thought as a specific. I just knew that I had to lose weight.
So tongue in cheek and probably with a disbelieving smirk I said I would like to be 15 stone again, the best I had ever managed before, and before it all and more, went back on, was 17 stone.
I knew in my heart of hearts I was asking the imposable. Lose 4 stone! Yea right!
Do you know what Emma said?
"No problem that's a good goal"
My goodness this girl was confident.
Well, it became very apparent, very quickly, that I could actually do this.
When I hit the 3 stone my Doctor was really pleased and told me I had not been at that weight since 2003. When I said I had set a goal to lose 4 stone he checked the records and said. "That will be good, the last time you were that weight was 1993."
Well this week I did it!!
4 stone 8 ounces lighter.
I have now re-set that goal to 5.5 stone. Why? Because I can! I'm going for 13.5 stone now.
Was it hard?
Not a bit.
Did I ever feel deprived?
Not at all.
Am I ever hungry?
No chance. I eat mountains.
Am I on the best diet ever?
NO I am not.
Slimming World is NOT a diet, it is a life style change. It is being educated in food optimising. Nothing is taboo. If you want it, you can have it. You just need to learn the value and find a way to pull it back.
Yes it was a little confusing at first. I guess it took the first 3 – 4 weeks learning the basics.
Was it worth learning? Well you tell me!
I can put my success so far down to just a few pointers:
1/ Me.... my reason (is big enough), and my determination to succeed.
2/ Pat.... for loving me enough to do it with me.
3/ Emma Kellond.... for just being Emma, without whom I could never have done it.
4/ My fellow members.... for all the tips and encouragement anyone could ever need.
5/ Staying to group. It's a fact, those that stay lose!!
6/ Fun.... trying all the new methods we are being shown.
7/ Body magic.... take a walk, smell the wild flowers, enjoy your environment.
So I can't stress enough.
Set your GOAL, BELIEVE you can, WORK with Emma take the advice and act on it, but most importantly STAY TO GROUP.
I am so passionate now with what we are doing I would (I DO!!!) recommend it to everyone
.
---
---