---
Posted by David Horne.
Apr 05, 2017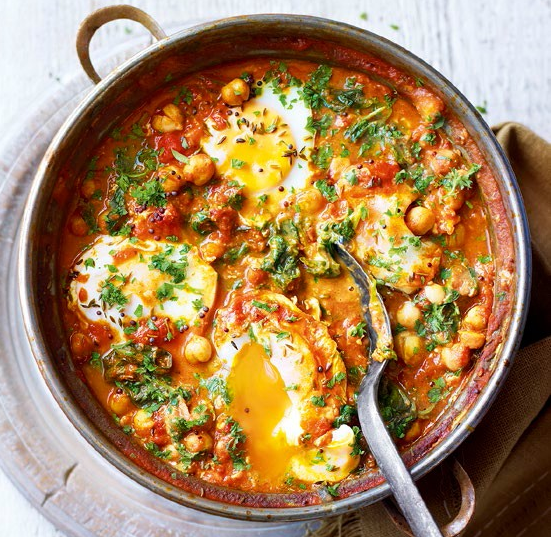 Ingredients

1 Cal Cooking Spray
2 tsp Cumin Seeds
1 tbsp Black Mustard Seeds
4 tsp Ground Coriander
2 tsp Turmeric
1/2 tsp Cayenne Pepper
4 Large Garlic Cloves, Crushed
1 Medium – Hot Red Chilli Finely Chopped
2 x 400g Tins of Chopped Tomatoes
2 x 400g Tins Chickpeas Washed and drained
juice of 1 Small Lemon
500g Baby Leaf Spinach
4 Large Eggs

Method
Spray a large deep non-stick frying pan with the 1 Cal and place over low heat.
Add all the spices, garlic, chilli & 100ml boiling water and cook gently for 1 minute.
Add the tomatoes, chickpeas, lemon juice, 200 ml boiling water & salt to taste and simmer for 15 minutes or until reduced and thickened.
Add half the spinach cover and cook until wilted down enough to add the rest.
Cook gently again to reduce down as the spinach will have produced more liquid.
Make for indentations into the mix and crack your 4 eggs. Cover and cook again for approximately 5 minutes or until the eggs are as you like.
Sprinkle with chopped fresh Coriander or parsley and serve.
---
---