---
Posted by David Horne.
Mar 17, 2017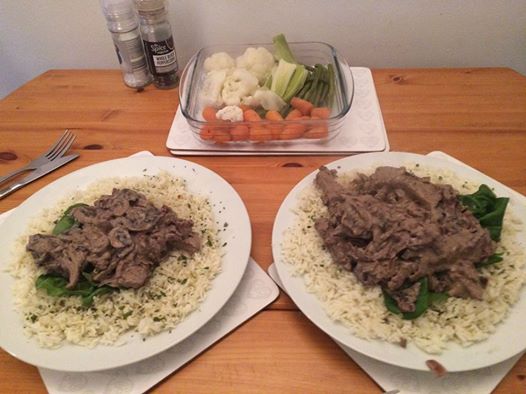 ​
Beef Fillet and Mushroom Stroganoff
Ingredients
1 tsp. Gravy granules or something to thicken
4 x Portions of rice.
Method
Place your rice onto cook.
​
Spray frying pan with the 1 cal
Slice the onion thinly and add to the pan.
Add 4 x tbs. of the stock cover and cook on a low heat for 10 minutes
Slice the mushrooms and add to the pan cook for a further 2 minutes.
Add the rest of your stock and thickening agent and reduce down so no liquid is left.
Now cut your beef steak into strips and fry lightly with the 1 cal once you achieve the desired level you like your steak cooked. i.e. rare medium or well done
Return the onion and mushroom mix.
Now bring back to boiling then add the Plain Quark. Again just bring the heat back up.
Serve onto a bed of rice.
Serve with a choice of at least 1/3 speed vegetables or salad to get the balance right.
---
---